When installing apps in Windows 10, or when you work with Windows 10 in general, you will come across errors that make you want to pull your hair out. One of them is the infamous "This app has been blocked for your protection" error. The error description says an administrator has blocked you from running the app. Naturally, you would try to right-click on the app and then select "Run as administrator". However, this might also not work, and it's at this point the hair pulling and keyboard and mouse smashing actions begin.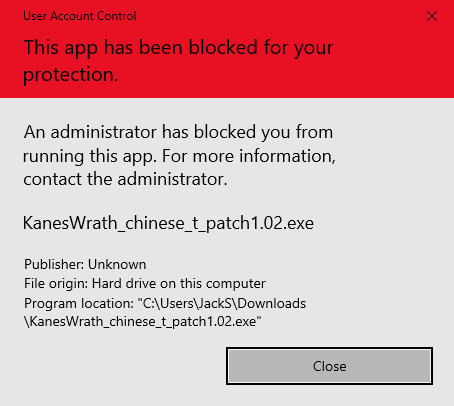 The thing is, you do need to run the app as an administrator. Microsoft just wants you to jump through one more hoop. Here's how you can install the app using the Command Prompt as an administrator.
Use Command Prompt to Run .exe File as Administrator
Before reading further, make sure you have the folder path of the app (.exe file). In our example below, the app is saved in the Downloads folder, which normally has this folder path – C:\Users\[User name]\Downloads.
1. Click on the Start Menu, type in "cmd" and select Run as administrator. Click on Yes if you get a prompt asking "Do you want to allow this app to make changes to your device?".


2. In the Command Prompt Window, type in "cd C:\Users\[User name]\Downloads" (case-sensitive) and press Enter on the keyboard. This will get you to the directory where you have the .exe file saved. The cd command means "change directory".

3. Once you are in the directory where the .exe file is saved, type in the name of the file (case-sensitive) and then press Enter on the keyboard. Your app will start installing.
Note you don't have to type out the full file name in the Command Prompt. Just type the first couple of letters (again, case-sensitive) and then press Tab on the keyboard, and the Command Prompt will fill out the full name for you.


Want to learn more Windows 10 tips and tricks? Check out this collection here.