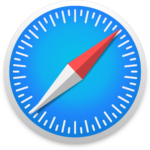 Pop-up windows are trademarks of shady websites, but legit websites also use them. Whenever you get a pop-up window in Safari, by default the browser will block it and notify you. This can be very helpful if it's a pop-up ad. On the other hand, if it's a webpage that you need to get to, this is obviously counterproductive. In today's post, we look at how to configure pop-up windows in Safari running on macOS Catalina.
How to Configure Safari Pop-up Windows
First, have Safari open and click on Safari in the Menu Bar and select Preferences. The keyboard shortcut for this is Command-Comma (⌘,).
Then, click on Websites, and to the left at the bottom, click on Pop-up Windows.
In the Pop-up Windows configuration screen, you'll see Currently Open Websites and Configured Websites.
To configure pop-up windows for any of the websites, simply pick from one of three options – Block and Notify which is the default option, Block, and Allow.
To remove configuration you had previously saved, select the website and click on Remove at the bottom.
Finally, if you would like to make changes to how Safari deals with pop-up windows when visiting other websites, choose one of the three options in the bottom right corner.