You would think your Mac should know every word and spelling you throw at it since it must have a huge vocabulary. However, that is not always the case. Every so often, you'd see something you type highlighted with a dreadful red dotted line below it. The line means either you just made a typo, or macOS does not know the word. If you did type correctly and want it remembered for the future, here's how you can add the word or spelling to macOS Spellcheck.
Before we dive in, it's worth mentioning that in order to teach macOS Spellcheck new words and spellings, you can use any text editor application you have available on your Mac. Apple's Pages and Microsoft's Word are two nice choices. Something simpler like the TextEdit app is a good way to go too.
In our example, we will be using the Notes app built into macOS.
How to Add Words and Spellings to macOS Spellcheck
First, begin by typing up the word or spelling you want to add to Spellcheck. If you see the dotted line, that means the word or spelling is not recognized.
Then, control(⌃)-click or right-click on the word or spelling. If you have a trackpad, click or tap with two fingers.
In the menu that appears, select Learn Spelling on the top and you are all set. You've now taught macOS the word or spelling.
Now, this happens sometime. If you don't see Learn Spelling on the top of the menu, select Spelling and Grammar further down instead and click on Show Spelling and Grammar.
In the Spelling and Grammar window that appears, click on Learn and that does the trick too.
You've now added the word or spelling to Spellcheck. To confirm, type it again and you should no longer see the dotted line.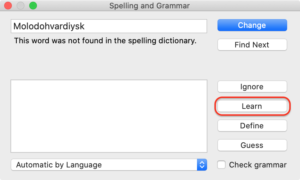 What are some of the words your computer could not recognize? Want to learn more about checking spelling and grammar on a Mac? Here's the link to Apple's guide on the topic.